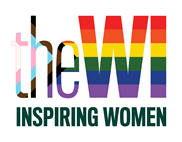 Today is the first day of #PrideMonth! We're excited to launch a new inclusive Pride logo this year – if you'd like to use it as your WI profile picture, simply save it and upload it. You can also download it from My WI!
We'll be celebrating LGBT+ Pride season across the summer and are encouraging WIs to organise Pride picnics in your local communities!
Choose your date and get ready to come together again, either in person or virtually, to celebrate. Why not invite a friend and showcase your WI?